Long time, no update! I've been busy on stuff I can't tell you about. Sorry!
I CAN tell you this, though:
My #MMIWG2ST poem, "Reservation Fairy Tales 101 – Final Exam," won second place in the Long Form Category of the Rhysling Award!!! This is my 13th nomination, and I am so pleased that this particular poem is the one that finally broke my losing streak, especially in light of it being Native American Heritage Week.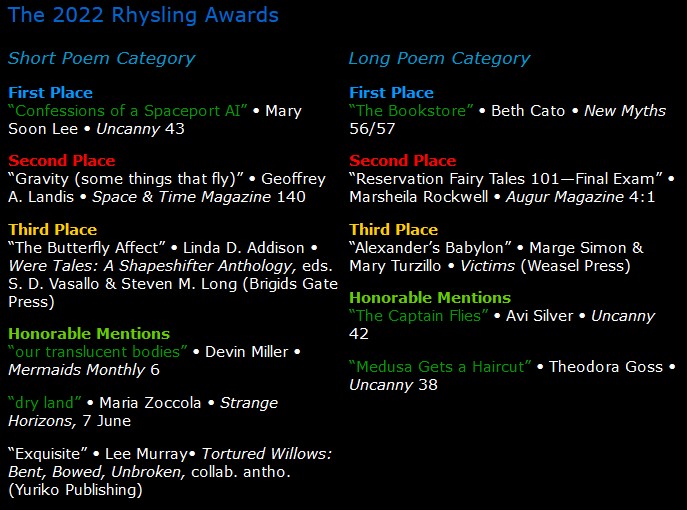 In other poetry news, the Bloodless anthology, which includes my witchy poem "Final Arrangements" released on October 25th.
Also, my weird western poem "Soiled Dove" will be appearing in the December issue of Penumbric Speculative Fiction Magazine, so keep your eyes out for that.
In prose news, Sisters of Sorcery was reviewed in the Midwest Book Review, which was cool.
I will be on an episode of the Graymalkin Lane Podcast (hosted by Chad Anderson) on December 8th, along with fellow Aconyte authors Carrie Harris and Tristan Palmgren, where we discuss Sisters and some chick named Gwen Stacy.
I was also a guest on a Very Special Episode of the Graymalkin Lane podcast where we discussed mind control and sexual assault in comics. My other smart and empathetic panelists include Carrie Harris, Stephanie Pitsirilos, Susan Kirtley, and Jessica Baldanzi. You can listen here, but be warned, it is obviously a heavy (but important and necessary) discussion.
Since Twitter seems to be imploding, here are the other places you can find me, all in one handy linktree. If I stay on Mastodon, I will probably be switching servers, or I might try Hive instead, but either way, I will update the linktree.
Oh, and we wound up cancelling on TusCon49 because my disc at the L4/L5 level decided to give out. When I got my L5/S1 fusion in 2017, they warned me that my L4/L5 would probably go, but said I had a good 10 years. Hah, fooled them – only took me 5! I'm an overachiever, LOL.
Everything Else
We got a dog! This is Clio, our special needs rescue. She's got some brain issues and is super anxious and scared of everything, but she's ours.